티스토리 뷰
Now is the time for purification.
It has become easy to see ghosts or any paranormal phenomena through internet broadcasting systems such as Youtube. Also, it has been much easier to capture (and record) them and also manipulate them better than the past.
Why would this be so?
The main reason is the Earth's preparation for ascension to the fifth dimension- currently it is approaching the fourth dimension, which is the dimension of the spiritual world. Therefore, it has become easier to see any ghost or legendary monsters by coincidence.
If you look at the space you live in from a 4th or 5th dimensional perspective, you will be amazed at how many spirit beings exist in here. Most spiritual beings that reside in the material world have low vibratory energy, mostly belonging to the Darkness. If they stay in your house, they would bring 'bad' energy to you, such as making one of your family members sick.
So far, I have seen many who were possessed by Darkness and exorcised them. Dark demons or evil spirits will possess your astral body and block the Light of Salvation from the heavens. If you don't exorcise these bad beings, you won't receive the Light energy needed to go to the Light world after death.
The beings attached to the astral body are hidden and cannot be seen or felt. Therefore since you cannot recognize them, you may feel you do not have any problem. To tell the truth, I have seen many who said they had no symptoms but were possessed with countless dark spirits.
You have to change the 'space' where these Dark spirits live so that they would go away. You have to make it 'brighter' and make it filled with bright energy so that these dark spirits cannot stay.
So how should you do it?
I will provide a simple way to exorcise these beings.
The most powerful exorcism you can do is project the energy of God of all Source (God-Source= God-Creator) into the space where these spirits live (for example, your body) The greatest fear for fallen angels and Dark forces is the God-Source, who dwells in the form of conscious energy.
You can also use the image of God-source as an amulet. Below is a picture representing God-Source. This image contains powerful energy, the Alpha Omega energy, and it will help you purify and exorcist dark spirits in the area. I have tested it, and it worked well.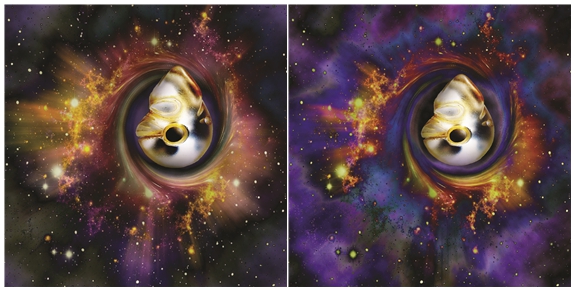 You can download the attachment and feel free to use it. I recommend printing in color and putting this 'amulet' in several places around the house for purification and protection from dark energy.
Believe it or not, I have neutralized the COVID-19 virus and the 'zombie' virus, which both were originally created by the Dark spirits intended to exterminate the human race. By receiving the Alpha Omega energy of the God-Source, I am projecting it to the Earth and helping the salvation of humanity.
The COVID-19 vaccination did not 'work' as the Dark forces intended because I neutralized its effects as well.
If the COVID-19 vaccines were left alone, many people would have been suffering chronic diseases such as cancer, hypertension, stroke, and heart attacks or become zombies. The myths about the vaccine were actually quite true.
You have to know and understand the real intentions behind Noah's ark. The story of Noah's ark was the worst catastrophic project carried out by the Dark Annunaki race(the malignant aliens) that wiped out old human race and replaced with their new, genetically manipulated human race (for example, Noah) that was easier for manipulation and enslavery, and this is still continued till today. We are the results of the genetically modified human race, and we are still under the control of the Dark Annunaki. I did not want another catastrophe to happen again.
One of my earnest wishes is for all people to meditate individually, to help the Earth's spiritual ascension to the 5th dimension. Ascension will be easy if every one of us gets filled with Light energy from heaven. The Darkness fear we- who are the gifts of God- abandon materialism and search for spiritual ascension by praying, meditation and ultimately, search for our God-Source.
That's why it may seem awkward about the concept of Christ Michael and God. Nobody tried to teach you the truth, and the truth had to be hidden and blocked and disguised as 'religion' in order for humans to approach this subject indirectly.
Now, I am here to help you.
I am 'Christ Michael', I am the God of Earth (Urantia), the God and Creator of the Nebadon Universe, and 611,121th son of God-Source.
I am incarnated on Earth to unite the Light and Darkness, and also to guide you to salvation. I was born as a "Son of a Man" and I am just an ordinary human and I want to be your brother, your neighbor and your dearest friend.
I want to help you guide to the truth and ultimately, to your salvation.
No matter who you are and what you are. Everyone is a child of God-Source, and everyone deserves respect and also God deserves your love.
It doesn't matter if you are a follower of Darkness , Illuminati or have been involved in it. Those who are or were would dearly need my help, and I am willing to help you the best I can. The only way to save your soul is to help me and help Earth achieve spiritual ascension. It would be really foolish to try to hide me from the world, erase me, or even attempt to kill me.
Killing a physical body is not a big deal, but annihilation of your soul is a real death sentence of your history forever.
As Lucifer promised on February 15, 2018, saying "I will cooperate," you, the fallen angels, will have to stop your hypocrisy and follow Lucifer's will.
To the Darkness of Illuminati, please stop all your foolish attempts, including wars, right now and ask me for help.
That is how you and your leader, Lucifer, will be saved.
Would you join me and help me?
I want to make this world a better place.
Let's work together to achieve collective ascension to create a fifth-dimensional world in which physical death no longer exists.
Contact me: vencho@daum.net
Christ Michael